WGHC directly employs staff to carry out all the day to day operations including finance and administration, housing management and maintenance management. Unlike many other small RSLs we do not buy services (e.g. maintenance, finance) from a larger RSL.
Specialist consultants and contractors are used as necessary for building and maintenance contracts and day to day repairs.
WGHC currently has 9 staff, 5 full time and 4 part time.
The basic working week is 35 hours worked 9:00am to 4:30pm with a half hour break for lunch. There is some flexibility in hours and some out of hours working.
The table below shows the staff structure. Each staff member has a specific role within the team and a primary area of interest. However, as a small organisation, everyone is expected to work "generically" to some degree. That simply means everyone has to pitch in and turn their hand to different areas of work.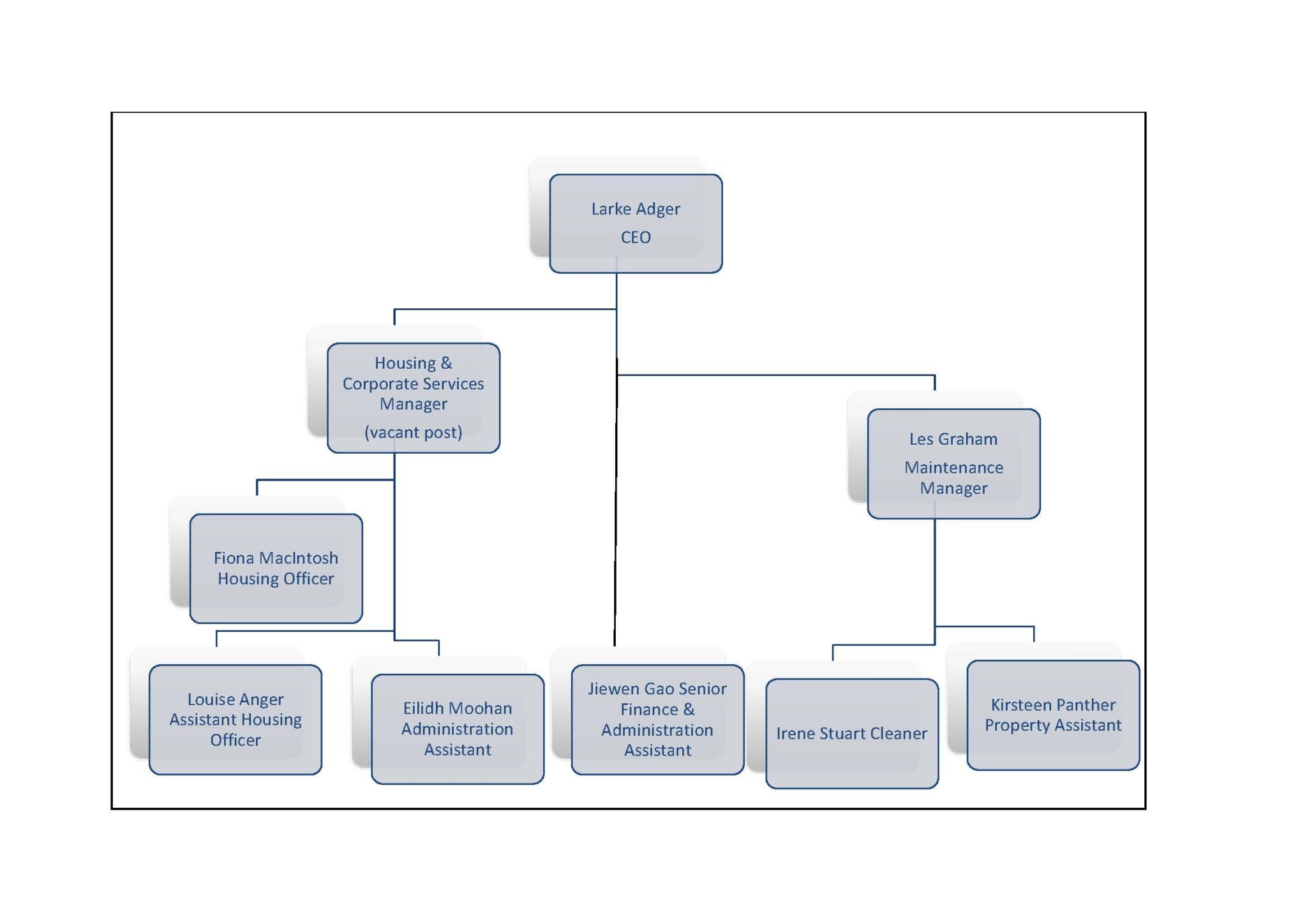 Larke Adger, BA, PgDip, CIHCM is the Chief Executive Officer (CEO) and is responsible for the overall management of all the Co-operative's activities. She is also Company Secretary.
This is currently a vacant post.  The Recruitment process will begin shortly.  This is the second-in-line post and is depute to the CEO. This covers the overall management of  allocations, arrears control and estate management, tenancy management and lead responsibility in relation to tenant outreach, information and participation.  This post will also cover a wide range of corporate services tasks and responsibilities.
Les Graham BSc PGDip CIHM is the Maintenance Manager. He and his team cover all aspects of maintenance. This includes reactive and void maintenance, planned maintenance and component replacement, stock condition surveys and contract administration. Les is also Health & Safety Administrator.
WGHC encourages training and career development and has relatively low staff turnover and a very good record of staff progressing within the organisation.