Scammers beware!
WGHC have been working in partnership with both Police Scotland and Trading Standards Scotland in an effort to tackle 'scammers' and unsolicited traders touting for work or selling door-to-door. Aside from common sense approaches such as ensuring your front door is locked (even if you're at home) and, where possible, making use of either a security chain or bar, one of the easiest things you can do if someone knocks your door that you either don't know or don't wish to be there is: simply/firmly say "No Thanks" and shut and lock the door.
Unsolicited traders will, occasionally, knock your door offering to:
clean gutters;
repair driveways;
replace roof tiles;
repair fences / boundary walls;
Ordinarily and usually, any of these types of works will be undertaken by WGHC approved contractors under a works order or contractual arrangement. If you are ever unsure as to the bona fide of a contractor / supplier 'claiming' to be working on behalf of WGHC – don't hesitate to get in touch with the office on 0131 551 5035 to check.
Since the beginning of the pandemic, there has been a huge increase in scam emails and texts relating to shipping or extra delivery charges as more people have turned to online shopping. Scam texts and emails often appear to have been sent by the Royal Mail or other delivery companies. These can often have the following appearance: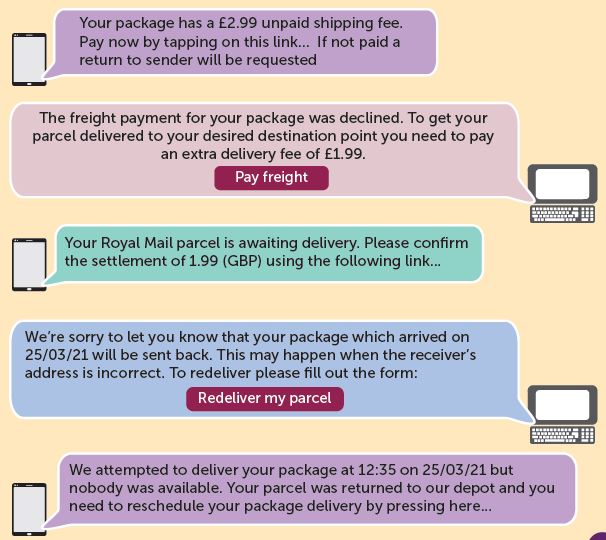 The Royal Mail will never send you an unexpected test message or email asking for personal payment details. They do not collect shipping costs by email or text. If there is a need to pay an extra delivery charge, they will post a card through your door to let you know.
Scammers will alway imply a level of urgency and will threaten your parcel will not be delivered unless the additional charges are paid. Be suspicious of any message which appears to be from an official company or organisation that tells you that you must provide your details or make a payment within a certain time frame.
Who's that knocking at your door ?
Please CLICK HERE to see useful information provided by Trading Standards Scotland.
You can report all scams to Advice Direct Scotland using their free helpline 0808 164 6000 or via their reporting tool at www.scamwatch.scot (please bear in mind if you click this link you will leave the WGHC website and be re-directed to their own website. If you are worried that you have lost money or given your bank details to Scammers – contact Police Scotland on 101.
Helpful links are pasted below (bear in mind if you click on any of these links, you will leave the WGHC website and be re-directed to the organisation you have clicked on. At that point, they will be responsible for cookies and/or data collection etc.)
Advice Direct Scotland – www.consumeradvice.scot
Police Scotland – www.scotland.police.uk/keep-safe
Trading Standards Scotland – www.tsscot.co.uk/latest-scams
The National Cyber Security Centre – www.ncsc.co.uk
"No Cold Calling" Zone
WGHC will soon be sending a letter/questionnaire to tenants asking for their opinion regarding turning our 17 street area / estate into a "No Cold Calling" zone – meaning that our area is registered, sign-posted and should help deter unsolicited cold callers / door step sellers etc.
We need over 51% of our tenants to agree this for it to be implemented.
Trading Standards Scotland will work collaboratively with WGHC if we decide we wish to pursue and advance with the "No Cold Calling" zone. Signage and stickers are provided and funded by the City of Edinburgh Council – so it means we can enjoy the benefits of the scheme at no cost to WGHC and you, our membership.